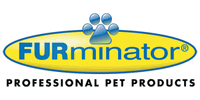 Shed-Less Treatment Prices from 30.00 to 60.00
is an authorized FURminator ™ Shed-less Treatment establishment. The FURminator will DRAMATICALLY REDUCE SHEDDING 60-80% for up to 6 to 10 weeks (shedding periods may vary depending on the breed and general health of your pet). The FURminator is designed for both long and short-haired pets of any size that shed.

1. We start with a hydro-massage bath.

2. We apply the FURminator deShedding solution to the coat which
acts as a conditioner to loosen up the undercoat.

3. We use a high velocity dryer to help eliminate the excess coat and
loose hair on the pet.

4. After the dog is completely dry we use the special deShedding tool
to extract loose hair and undercoat from your pet, which feels like
brushing to your pet.


Still not sure? Take a look at some of the results for yourself:


Spend more time with your pet and less time cleaning up all of that unwanted hair!
Schedule your pets appointment today for this special treatment!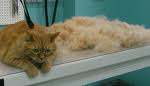 Add-on Service
Ears $5.00
Ear plucking $10.00
(not responsible for irritation)
Cat nail $20.00
Glands $15.00
Teeth $10.00
Pedicure $5.00
Nail Polish $5.00
Wet shaving extra $30.00
Bubble Bath Paw $10.00
Fresh Facial Scrub $10.00
Medicaid shampoo $10.00
Flea shampoo $10.00
Sugar Scrub: $10.00
Dematting a $1.50 a minute
Therapeutic Massage $10.00 for 15 minute
Nail s $10.00 M $15.00 L $20.00 XL $25.00
Shave down from matting $20.00
Soft Clawsfor Cats/dogs ( A humane way to prevent your cat/dog from clawing furniture, etc.) $25.00
The Touch-UpKeep your pet looking and feeling great with 15 minutes of brushing and trimming $21.00
We offer hair color!. Prices start at $15.00
(in addition to price of grooming)
Refreshing Spa Treatment
$25.00
Ultimate Luxury Treatment
$35.00
Ultimate Paw Treatment
$20.00
Aggressive dogs will be charge extra
Puppy will be prices by weight
Pet are provided a complete per-inspection before they are groomed. Every year tens of thousands of pets are referred to the veterinarians by pet groomers based on their observations. I will use the pet groomer's report and health alert form to communicate observations to pet owners.